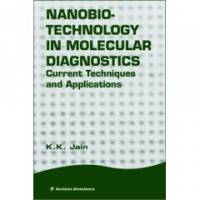 Autoři: by K.k. Jain
Vydavatelství: Taylor & Francis
Vydáno: 2006

Molecular diagnostics has evolved rapidly during the past decade and has an impact on the practice of medicine as well as many other applications including drug discovery. Advances in biotechnology have been incorporated into molecular diagnostics. There has been a distinct trend in miniaturization with development of biochips and microfluidics. This trend has continued with the development of nanotechnology. Nanotechnologies are now being applied to molecular diagnostics to refine and extend the limits of detection. As the introductory chapter on molecular diagnostics shows, there are a large number of technologies and only a fraction of these have yet been affected by the introduction of nanobiotechnology. There is a tremendous scope for further development. This book gives an introduction to nanobiotechnology relevant to molecular diagnostics, a field that has been termed nanodiagnostics. The current state of development of nanodiagnostic technologies including nanobiochips and nanobiosensors is reviewed. Besides important applications in clinical diagnostics, the role of molecular diagnostics in drug discovery is also described.
Odkazy: