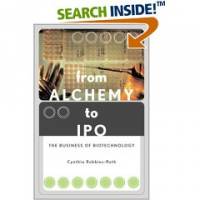 Autoři: Cynthia Robbins-Roth
Vydavatelství: Perseus Books Group
Vydáno: 2001

Despite unnerving swings in individual stock valuations--or perhaps because of them--many knowledgeable observers still believe the 21st century will ultimately earn its stripes as the Age of Biotech. Cynthia Robbins-Roth, named by Forbes magazine as one of the industry's top insiders, certainly is among them. And in From Alchemy to IPO, she persuasively argues investors better take heed because they ain't seen nothin' yet. "Most of us think of biotech as medicine or genetically engineered crops," writes Robbins-Roth. But in the very near future, she continues, it also "may make it possible for humans to reach the stars and to change the environment on other planets." Think that's far-fetched? She says developments like this are already in early stages and, in a deliberately proselytizing manner, traces their roots to the current business nitty-gritty, finally focusing on the long-term moneymaking potential. "The biotech world will never be an easy place for investors," she cautions, but with hundreds of ongoing projects "poised to power into the marketplace," there will be plenty of "opportunities for investors and employees alike."
Odkazy: