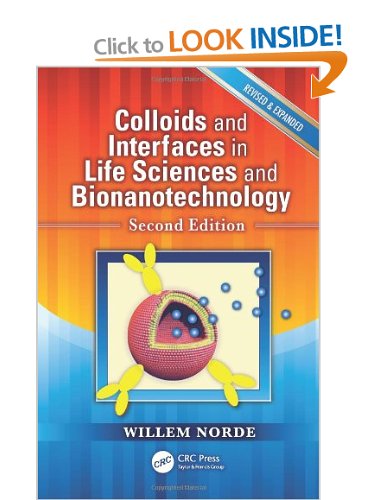 Autoři: Willem Norde
Vydavatelství: CRC Press
Vydáno: 2011

Colloidal systems occur everywhere—in soils, seawater, foodstuff, pharmaceuticals, paints, blood, biological cells, and microorganisms. Colloids and Interfaces in Life Sciences and Bionanotechnology, Second Edition, gives a concise treatment of physicochemical principles determining interrelated colloidal and interfacial phenomena.
New in the Second Edition:
New topics, including phase separations in polymer systems, electrokinetics of charged permeable surface coatings, and polymer brush coatings to control adsorption and adhesion of particles
Emphasis on inter-particle interactions and surface phenomena in (bio)nanotechnology
Full solutions to over 100 updated and additional exercises are presented in the Appendix
Focusing on physicochemical concepts that form the basis of understanding colloidal and interfacial phenomena—rather than on experimental methods and techniques—this book is an excellent primer for students and scientists interested in colloidal and interfacial phenomena, their mutual relations and connections, and the fascinating role they play in natural and man-made systems.
Odkazy: