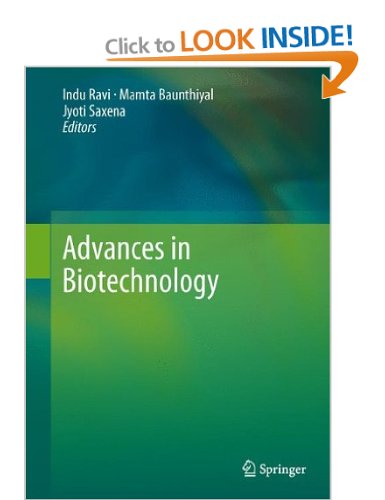 Autoři: Indu Ravi, Mamta Baunthiyal, Jyoti Saxena
Vydavatelství: Springer
Vydáno: 2013

The book "Advances in Biotechnology" is about recent advances in some of the important fields that are ongoing in certain biotechnological applications. Biotechnology has been quite helpful in keeping pace with the demands of every increasing human population and in improving the quality of human life. Major biotechnological achievements associated with human welfare have been from the fields like genetic engineering; transgenic plants and animals; genomics, proteomics, monoclonal antibodies for the diagnosis of disease, gene therapy etc. Fourteen authoritative chapters written by experts having experience in academics and research on current developments and future trends in biotechnology have been empathized. The book provides a detailed account of various methodologies used in biotechnology i.e. High capacity vectors, DNA sequencing dealing with next generation sequencing, Molecular markers, DNA microarray technology, as well as Proteomics that have revolutionized biotechnology with a wide array of applications. The book not only presents a well-founded explanation of the topics but also aims to present up-to-date reviews of current research efforts, some thoughtful discussions on the potential benefits and risks involved in producing biotechnological products and the challenges of bringing such products to market. It will prove to be an excellent reference work for both academicians and researchers, indicating new starting points to young researchers for new projects in the field. The book is intended for biotechnologist, biologist, researchers, teachers and students of Biosciences and Biotechnology.
Odkazy: